Disposable Endo Cutter Stapler (with Cutter Assembly)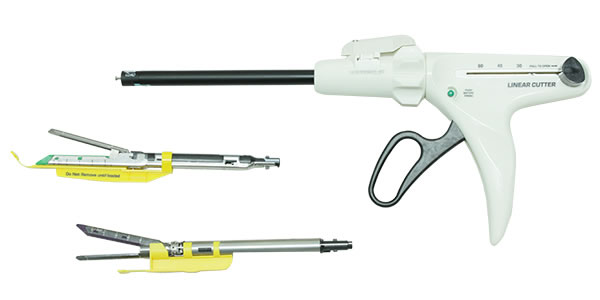 Features of the Endo Cutter Stapler
1. Articulating reload provides flexibility and ease of operation in a narrow pelvic space.
2. Cutting blade can be disposed of and replaced along with the staple cartridge. Consistently sharp blades ensure successful cutting, so that the cut tissue is left intact and minimum trauma is incurred.
3. The endo cutter stapler provides up to 6 rows of staples, regardless of the type of reload being used. This ensures maximum patient safety in endoscopic surgery.
Applicable Surgical Operations
This articulating linear stapler is designed for various open and VATS surgical removal procedures, including lung, gastric, and bowel resection, thoracoscopic and laparoscopic surgeries (tissue transection, resection, and anastomosis), and the transection and resection of liver parenchyma, hemangioma, and ball parenchyma.
Specs of Linear Stapler
Table 1 Basic Size Unit: mm
Model
Handle
Handle (L1)
Cut Length (L)
Staple Size
No. of Staple-Carrying Grooves
Total Length
Cutter Assembly


Basic Size
Limit of Deviation
Basic Size
Limit of Deviation
Staple Height
Limit of Deviation




WNQSZ-30A
L: Long Handle
M: Standard Handle
S: Short handle
60
±5
30
±5
4.8
±0.3
42
445±5
Z:Straight cutter head X: Rotary cutting head


WNQSZ-30B
3.5


WNQSZ-45A
45
4.8
66
460±5


WNQSZ-45B
3.5


WNQSZ-60A
60
4.8
90
475±5


WNQSZ-60B
3.5


WNQMZ-30A
160
30
4.8
42
545±5


WNQMZ-30B
3.5


WNQMX-30A
4.8


WNQMX-30B
3.5


WNQMZ-45A
45
4.8
66
560±5


WNQMZ-45B
3.5


WNQMX-45A
4.8


WNQMX-45B
3.5


WNQMZ-60A
60
4.8
-60A
4.8


WNQMX-60B
3.5




WNQLZ-30A
260
30
4.8
42
645±5
WNQLZ-30B
3.5
WNQLX-30A
4.8








WNQLX-30B
3.5








WNQLZ-45A
45
4.8
66
660±5








WNQLZ-45B
3.5








WNQLX-45A
4.8








WNQLX-45B
3.5








WNQLZ-60A
60
4.8
90
675±5








WNQLZ-60B
3.5








WNQLX-60A
4.8








WNQLX-60B
3.5








Table 2
Basic Size Unit: mm
Model
Cut Length (L)
Staple
No. of Staple Grooves
Cutter Assembly
Basic Length
Limit of Deviation
Staple Height
Limit of Deviation


WZNZ-30A
30
±5
4.8
±0.3
42
Z: Straight cutting head
X: Rotary cutting head
WZNZ-30B
3.5
WZNX-30A
4.8
WZNX-30B
3.5
WZNZ-45A
45
4.8
66
WZNZ-45B
3.5
WZNX-45A
4.8
WZNX-45B
3.5
WZNZ-60A
60
4.8
90
WZNZ-60B
3.5
WZNX-60A
4.8
WZNX-60B
3.5