Disposable Circular Stapler
WeCare's circular stapler is designed to carry out circular end-to-end, side-to-end, or side-to-side anastomosis of the digestive tract. Use this surgical stapler to connect between two channels, blood vessels or tubes in esophageal, gastric, and intestinal surgeries. Typical procedures needing a surgical stapling device are anastomosis of the bile duct and gullet, total gastrectomy, cardiectomy, and colectomy.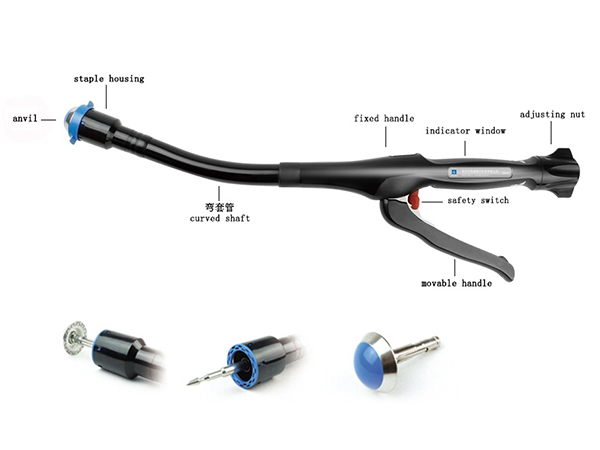 Advantages
1. Imported, hygienic titanium staples are properly and evenly distributed around the circular head of the stapler.
2. Uniquely machined disposable circular stapler cuts sharply, separating tissues precisely and in one cut for a good surgical operation.
3. Cutting washer delivers audible feedback as an indication that a staple is done firing.
4. Crafted workmanship for a streamlined appearance.
Parts: 1. Anvil 2. Curved Shaft 3. Fixed Handle 4. Movable Handle 5. Adjusting Nut 6. Safety Switch 7. Indicator Window
Specs of Circular Stapler
| | | | | | |
| --- | --- | --- | --- | --- | --- |
| Type | Outside diameter (mm) | Anastomotic internal diameter (mm) | Number of titanium nails | Nail width (mm) | Nail height (mm) |
| WWG-17J | 17 | 10 | 16 | 4.0 | 4.2 |
| WWG-19J | 19 | 11 | 16 | 4.0 | 4.2 |
| WWG-21J | 21 | 13 | 18 | 4.0 | 4.5 |
| WWG-23J | 23 | 14 | 18 | 4.0 | 4.5 |
| WWG-26J | 26 | 17 | 20 | 4.0 | 4.5 |
| WWG-29J | 29 | 21 | 24 | 4.0 | 4.8 |
| WWG-32J | 32 | 24 | 28 | 4.0 | 5.0 |
| WWG-33J | 33 | 25 | 28 | 4.0 | 5.0 |
| WWG-35J | 35 | 27 | 32 | 4.0 | 5.2 |