Disposable Curved Cutter Stapler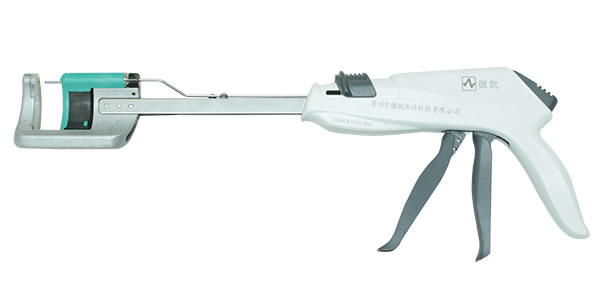 Features of Curved Cutter Stapler
1. Imported titanium staples
2. This curved stapler combines cutting and stapling in one device, delivering 4 rows of staples with a single cut between them. The resulting staple line is tight and leak-free.
3. This unique cutter, combined with a suture threader, cuts hard-to-reach tissue required for distal transaction within the rectum.
4. Curved head helps surgeons work in the narrow pelvic region for satisfactory surgery results.
5. Allows for increased visibility and a deep reach.
6. Cutting washer gives tactile feedback as an indication of completed cutting and stapling.
7. Hand-operated retaining pin clamps down the tissue needing to be sutured, preventing tissue from slipping or leakage. The position of the tissue can be checked and adjusted, thanks to the intermediate locking position.
Applicable Surgical Operations
The curved cutter stapler is commonly used in anorectal surgeries, and various open and VATS procedures (for gastroenterological surgery and skeletal muscle stapling) and gynecological, urological, and thoracic surgeries.
Technical Specs of Curved Cutter Stapler
| | | | |
| --- | --- | --- | --- |
| Model | Length of Staple Line | No. of Titanium Staples | Staple Height |
| WYQ-45 | 45 | 46 | 3.8/4.8 |