Disposable Linear Cutter Stapler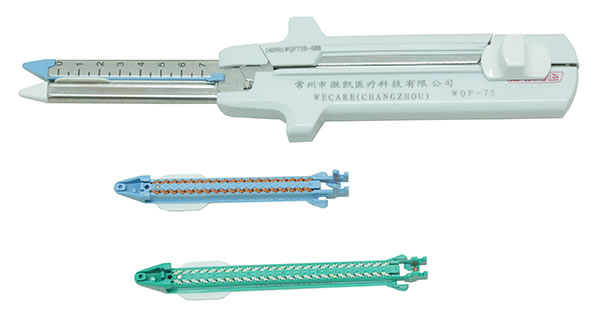 Features of the Linear Cutter Stapler
1. Intermediate locking position lets surgeons position and inspect the tissue before closing.
2. The unique head design of the stapling device ensures consistent formation of staples.
3. Staple cartridge accommodates differently sized staples for a range of tissue thicknesses.
4. The linear cutter stapler comes with a retaining pin that ensures correct cut and suture length.
5. Suture line is extended by 1.5 staples, so that it is longer than the cut line.
Clinical Applications for the Cutter Stapler
Match this surgical stapler with different staple cartridges to fit the needs of each surgery. In clinical surgeries, such as gastrectomy and pneumonectomy, a staple height of 4.5mm should be selected. In gastroenterological cases, staples with a height of 3.85mm are needed.
Technical Specs
| | | | | | | |
| --- | --- | --- | --- | --- | --- | --- |
| Type | Cut line length (mm) | Staple length (mm) | Suture length (mm) | Color code | Number of staple-carrying grooves | Staple height (mm) |
| WQF-55A | 55 | 57 | 2.0 | Green | 56 | 4.50 |
| WQF-55B | 55 | 57 | 1.5 | Blue | 56 | 3.85 |
| WQF-60A | 60 | 62 | 2.0 | Green | 58 | 4.50 |
| WQF-60B | 60 | 62 | 1.5 | Blue | 58 | 3.85 |
| WQF-75A | 75 | 77 | 2.0 | Green | 76 | 4.50 |
| WQF-75B | 75 | 77 | 1.5 | Blue | 76 | 3.85 |
| WQF-80A | 80 | 82 | 2.0 | Green | 78 | 4.50 |
| WQF-80B | 80 | 82 | 1.5 | Blue | 78 | 3.85 |
| WQF-90A | 90 | 92 | 2.0 | Green | 92 | 4.50 |
| WQF-90B | 90 | 92 | 1.5 | Blue | 92 | 3.85 |
| WQF-100A | 100 | 102 | 2.0 | Green | 100 | 4.50 |
| WQF-100B | 100 | 102 | 1.5 | Blue | 100 | 3.85 |
Parts diagram