Disposable Linear Stapler
The linear stapler uses a cutting guide to keep the cut and suture path carefully controlled. The resulting tissue closure is leak-free, secure, and reliable. A longer, slimmer shaft is used for better access to the tissue, and comes with a smart staple-firing handle. Use in thoracic, laparoscopic operations for tissue closure and transection.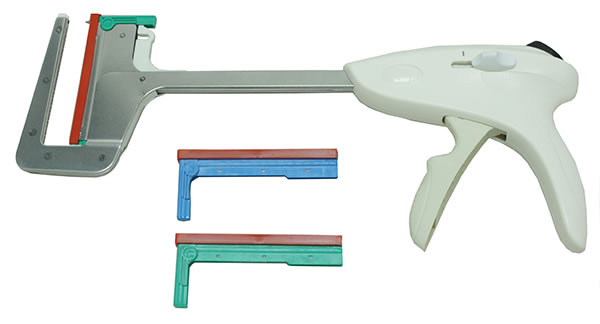 Features of the Linear Stapler
1. Staple Formation technology
Improved staple line formation technique ensures safer, more reliable tissue closure.
2. Safety
The safety lock prevents staples from misfiring or closing tissue when the staple carriage is not yet in place for a safer surgical procedure. After the firing is completed, the firing handle returns to its original position.
3. Cutting Guide
After tissue is closed, extraneous tissue can be cut smoothly off using the cutting guide. This guided operation minimizes lateral tissue trauma for enhanced safety during surgical operation.
4. Thinner, Longer Shaft
A longer and thinner shaft makes surgical operation easier and gives doctors good visibility in TME and LAR procedures.
5. Manual and Automatic Tissue Positioning Features
With accurate positioning of tissue in either manual or automatic operating mode, these features prevent tissue from slipping or leaking during surgery.
6. Parallel Jaw Closure
The dual-action handle provides a tactile pre-clamp position that allows the doctor to readjust the tissue before final, complete closure with the surgical instrument.
7. Anti-Slip Handle
The anti-slip handle offers a secure grip.
Applicable Surgical Operations
This surgical stapler is widely used in esophageal, stomach, and duodenum resection operations.
Model Selection
| | | | | |
| --- | --- | --- | --- | --- |
| Model | Suture Length (mm) | No. of Titanium Staples (mm) | Staple Width (mm) | Staple Height (mm) |
| WZF-30A | 30 | 11 | 3.8 | 4.5 |
| WZF-30B | 30 | 11 | 3.8 | 3.8 |
| WZF-45A | 45 | 15 | 3.8 | 4.5 |
| WZF-45B | 45 | 15 | 3.8 | 3.8 |
| WZF-60A | 60 | 21 | 3.8 | 4.5 |
| WZF-60B | 60 | 21 | 3.8 | 3.8 |
| WZF-75A | 75 | 27 | 3.8 | 4.5 |
| WZF-75B | 75 | 27 | 3.8 | 3.8 |
| WZF-90A | 90 | 33 | 3.8 | 4.5 |
| WZF-90B | 90 | 33 | 3.8 | 3.8 |