Disposable Percutaneous Tracheostomy Kit
WeCare's percutaneous tracheostomy kit is a collection of surgical instruments for making an opening through the neck into the windpipe and inserting a trach tube. The tube creates an artificial airway that allows patients to breathe.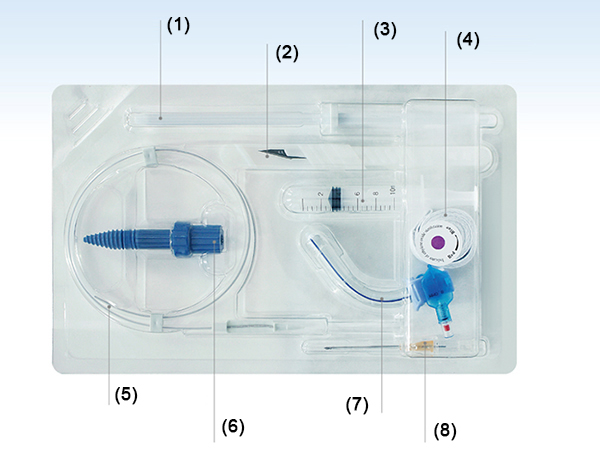 (1)cannula; (2)scalpel; (3)syringe; (4)cloth tie; (5)J-type guide wire;
(6)threaded dilator; (7)tracheotomy tube; (8)obturator

Applicable Surgery
Tracheal intubation is a first-aid method commonly employed to relieve the patient's upper airway if obstructed. This process takes only a few minutes to complete, as long as surgeons have the right percutaneous tracheostomy kit in hand. In emergency rescue, tracheostomy can save a patient's life.
Equipment of the Kit
The kit includes the tracheal oburator (that guides the tracheostomy tube as it is being inserted), scalpel, syringe, cloth ties (made of special-purpose non-woven fabrics), J-shaped guide wire, threaded dilator, tracheostomy tube, and cannula.
Technical Specs
Type
Inner diameter
Outer diameter
Length
Cuff inflation diameter
Notes
WQQ-6.5A
6.5
9.5
76.5
18.50
Highly specialized percutaneous tracheostomy kit can be customized to suit rare tracheal intubation applications.
WQQ-7.0A
7.0
10.0
76.5
19.00
WQQ-7.5A
7.5
10.5
76.5
19.50
WQQ-8.0A
8.0
11.0
76.5
20.00
Standard products are available in stock.
WQQ-8.5A
8.5
11.5
76.5
20.50
WQQ-9.0A
9.0
12.0
76.5
21.00
Customized
WQQ-9.5A
9.5
12.5
76.5
21.50
WQQ-10.0A
10.0
13.0
76.5
22.00
WQQ-10.5A
10.5
13.5
76.5
22.50
WQQ-11.0A
11.0
14.0
76.5
23.00
Package
One set is sealed with the blister box and dialyzing paper and sterilized. Then put into the hard paper colored box together with the operation instruction and inspection Certificate.
The validity is three year start from packing. OEM packed and logo accepted.