Computer Controlled Tissue Processor
, TSJ

TSJ computer controlled tissue processor is designed for routine processing of fixed tissue, delivering tissue quality at each step from dehydration to infiltration. The tissue processor features a compact bench-top design that takes up little room in the space-confined lab. When power outage occurs, the backup battery provides the electricity needed to ensure tissue sample safety. Metallic ion decontamination features prevent solvent odor and protect operator safety.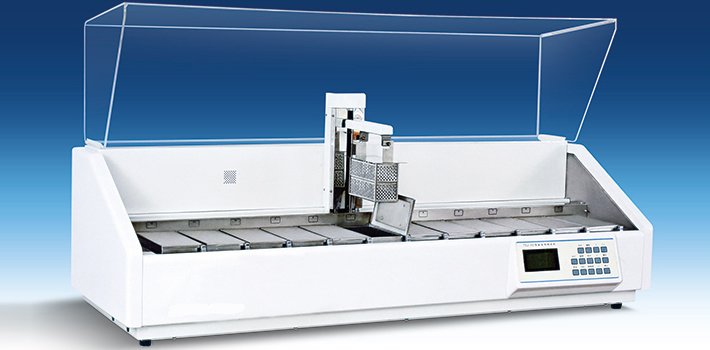 Features of Computer Controlled Tissue Processor
1. The computer controlled tissue processor stores up to 8 processing programs for routine use.
2. In the event of power failure, protection features on the computer controlled tissue processor will keep your specimens from drying out.
3. In manual operation mode, the tissue processing time can be adjusted at each stage of the procedure.
4. Residual liquid on the basket can be cleaned out automatically when it is transferred from one station to the next, which avoids contamination.
5. It is possible to interrupt an automatic process for reloading or removing cassettes for special applications before the end of a run.
6. Should any obstruction be met during a run, the basket will return to the first station to protect the tissue from being destroyed.
Technical Specifications
| | |
| --- | --- |
| No. of Tanks | 12, including 9 reagent stations and 3 paraffin stations |
| Basket | 1 |
| Tank capacity | 2000ml-2500ml |
| Stay time in each tank | 1 minute-99 hours |
| No. of processing programs | 8 sets |
| Time interval between two tanks | 30 seconds |
| Temperature range | 50℃ -99℃ |
| Temperature deviation | 0.5℃ |
| Power supply | 220V (10% more or less)50HZ or 110V(10% more or less) 50/60Hz |
| Power | 600VA |
| Weight | 80KG |