Fully Enclosed Tissue Processor
, TSJ-Q

TSJ-Q tissue processor is the first of its kind in Chinese pathology instrument industry. The fully enclosed design is not only aesthetically appealing but also technically innovative, as users can choose among four different operating modes during use, including the heating, pressurizing, vacuum and atmospheric pressure modes. Each mode is suitable for a specific kind of specimen, delivering premium specimen quality.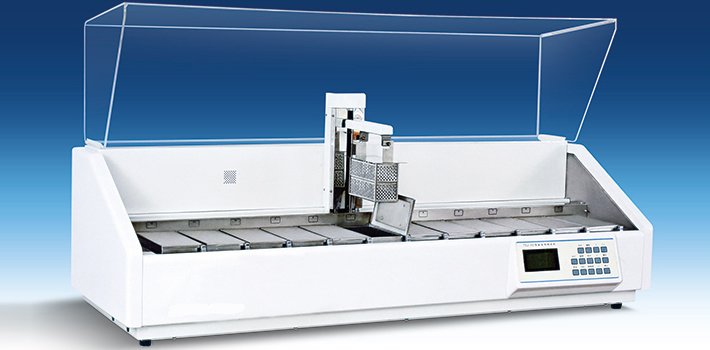 Features of Fully Enclosed Tissue Processor
1. This tissue processor is able to maintain a vacuum condition throughout the operation. This vacuum prevents reagents from evaporation, minimizing unnecessary waste and saving operation cost.
2. Reloading reagents is simple, without the need to take out the cassette. This avoids potential tissue damage during handling.
3. The enclosure for this tissue processor is made of stainless steel, available in loading capacities including 3.8L, 5.3L, and 6.8L.
4. Adopts a large LCD intelligent display, featuring a user-friendly interface. From there, operators can view the machine's operating status.
5. Sets start time automatically one month in advance.
6. Upon completion of a run, the processor sounds the alarm to remind customers.
7. Stores 8 sets of program to select from.
8. Offers overheating protection.
9. Operating procedures are memorized upon a power outage, so that the tissue processor can take up where it left off.
10. Three models for customers to choose from, processing 100, 200, or 300 tissues at the same time respectively.
Technical Data
| | |
| --- | --- |
| Bottle capacity | 2.3L /3.2L |
| No. of reagent bottles | 9 (for cleansing purpose) |
| Paraffin tanks | 3 |
| Retort capacity | 3.8L /5.3L/6.8L |
| Reagent temp. | 30 to 70℃ |
| Paraffin tank Temp. | From ambient temperature up to 80℃ |
| Immersion time | 0 - 99H59M |
| Mixing time | 1 minute |
| Mixing time interval | 10 minutes |
| Operating mode | Manual or automatic |
| Nominal voltage | AC220V |
| Nominal frequency | 50HZ |
| Nominal power | 1500 VA |