Slide Stainer
, RSJ-Silver

RSJ-Silver slide stainer is an improvement over its cousin RSJ, as the former allows simultaneous staining of more microscope slides than the latter. Its big memory stores up to 6 processing programs. More functions are available as detailed below.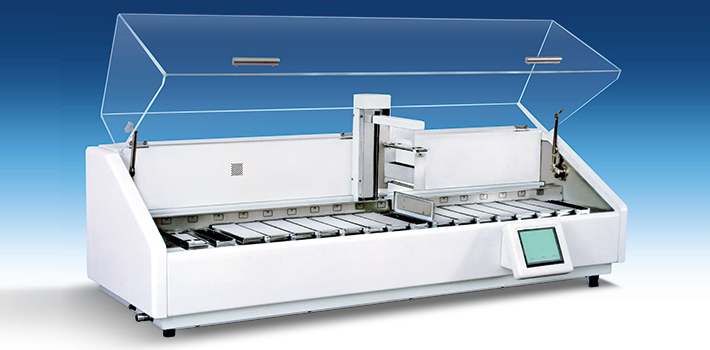 Features of Slide Stainer
1. Allows for continuous running that meets the need of batch staining.
2. Iron filter cleans out baneful gas ensuring user safety.
3. Touch screen display presents all processing information, and is easy to watch and operate.
4. Moving parts are supported by linear bearing and controlled by linear guide. These parts run precisely, stably with high wear resistance.
Related Functions
Related functions
Continuously running tissue basket
Moving parts
LCD touch screen display
Cleaning feature (with water)
Removal of ionic contamination
Automatic water supply and discharge
Programmed process
Heating, drying functionality
Automatic positioning and memory function
Warning alarm
Related Specifications
| | |
| --- | --- |
| No. of tanks | 18. The first tank is a water tank used for cleaning purpose. The last one is the start tank with heating feature. The second to last tank is the terminal tank. |
| Volume | 1000ml single basket accommodates 47 slides. |
| Input | 220C ±10% 50Hz |
| Max. Power | 400W |
| Temperature setting | 0-99 ℃ |
| Operating method | Continuously running tissue basket for simultaneous staining of many slides |
| Stay time in each tank | 1 second - 99 minutes 59 seconds |
| No. of programs (to be stored) | 6 |
| Dimensions | 140×50×55mm |